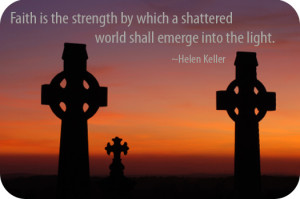 Celtic Crossings
From: "Fr. Randolph Sly"
To: brothers@aohloudoun.com
Subject: He is Risen… He is Risen Indeed!
Date: April 5, 2015 at 1:05:43 PM EDT
My Brothers in Christ,
He is risen! He is risen, indeed!!
May God bless you richly on this most Holy Solemnity of the Resurrection!
I pray that each of you and your families find refreshing in the springtime of life as we celebrate his rising from the dead.
May we, with St. Maximus the Confessor, declare:
Christ is risen! He has burst open the gates of hell and let the dead go free; he has renewed the earth through the members of his Church now born again in baptism, and has made it blossom afresh with men brought back to life. His Holy Spirit has unlocked the doors of heaven, which stand wide open to receive those who rise up from the earth.
Christ is risen. His rising brings life to the dead, forgiveness to sinners, and glory to the saints. And so David the prophet summons all creation to join in celebrating the Easter festival: Rejoice and be glad, he cries, on this day, which the Lord has made.
Yours in Christ,
Fr. Randy Sly
Chaplain
______
A Message from Your Chaplain
Father Randy Sly
Living the Gospel Out Loud
When I was very young in the ministry, I always kept trying to "push" the envelope a bit with my parish. During one Lent we were having a time of music and teaching when I decided it would be a good idea to help my people see what it would be like to experience a bit of persecution.
In addition to being a pastor, I was the chaplain coordinator for the local police department. I had talked a couple of off-duty officers to come to the church in uniform and arrest one of my parishioners (a woman who was also in on the stunt) and drag her off in handcuffs for being too public about her faith.
Things got a bit out of hand when a few other parishioners (most of whom were part of the First Infantry Division stationed at nearby Ft. Riley) decided these officers were out of line and, exhibiting some strong anger, were about to get physical. (Needless to say, I learned a lesson that day!)
While things didn't go as planned, we did get an idea of what kind of chaos could break out if we were persecuted. We got a small taste of what it would mean to publicly stand for our faith.
I'm writing this on the eve of the 41st Annual March for Life and thinking about the event about to take place. Each year many thousands gather in downtown Washington to stand for life and for the Lord of Life, Jesus Christ. They walk down Constitution Avenue chanting, "Hey, hey, ho, ho; Roe v. Wade has got to go!" They are also praying the Rosary, singing and getting a chance to meet other people from across America who came to the March.
From the sidelines, there will be some hecklers and other who simply want to make fun of the "religious people." In all of the buildings on the route, people are watching from the windows, taking in the spectacle. This is about as confrontational as it will ever get.
So why do we do this each year? Primarily, we are uniting for the cause of the unborn, to speak for those who have no voice. We are marching for those who are losing their lives not because of their faith but merely because they are alive.
Why do we do this? Because, this is what Catholic Christians do. We live the Gospel out loud, in plain sight of our society. We demonstrate our faith in Christ in word and deed, in big things and even in the small things of life.
St. Sechnall (or Secundinus), a fourth century bishop and the nephew of St. Patrick, wrote a hymn about his uncle. One of the stanzas says,
Christ's holy precepts he keeps in all things,
His works shine bright among men,
And they follow his holy and wondrous example, And thus magnify God the Father in the heavens.
The hymn pays tribute to the famous bishop for all of his feats but also speaks strongly of his deep and abiding faith – a faith he practiced earnestly. He, too, lived his faith out-loud. As St. Sechnall wrote, "they follow his holy and wondrous example."
Whether it's the March for Life or in some other way – big or small – we have wonderful regular opportunities to live out our faith in front of others and, just perhaps, ignite something inside them that will draw them closer to our Lord.
Go mbeannaí Dia duit,
Fr. Randy Sly
Chaplain,
The Colonel Thomas Cunningham Division of the Ancient Order of Hibernians