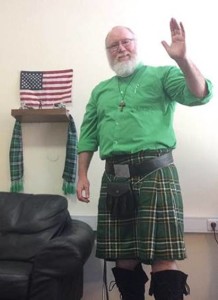 Photo of Father Harris in Austria, Sent on St. Patrick's Day, March 17, 2016
To: brothers@aohloudoun.com
Cc: dlagene@comat.net, sisconsulting@comcast.net, Vigor2@aol.com, bri1v1@comcast.net
My Brothers in Christ and St Patrick,
I want to wish all of you a most Joyous Christmas this year.
May the Gif t of the Christ Child fill each of your hearts, and your families, with an overabundance of Love.
Be assured of my love and prayers.
I offered my Mass this Christmas Morning for all Hibernians, near and far.
God Bless you and yours,
Fr Timothy…
P.S. – VA State Officers, I could not find a mailing list for all of the State Officers, so please forward this email accordingly. Thanks.
Reverend Timothy J Harris, T.O.R.
Ancient Order of Hibernians of America, Inc.
"We seem to have lost. We have not lost.
To refuse to fight would have been to lose; to fight is to win.
We have kept faith with the past, and handed on a tradition to the future."
Padraig Pearse, at his court-martial on the day before his execution, May 2, 1916.Video
http://www.aoh.com/2015/08/02/a-chaplains-farewell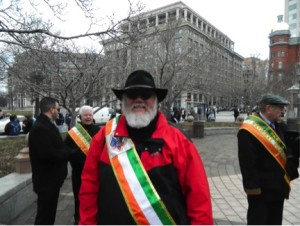 A Chaplain's Farewell
AUGUST 2, 2015 BY FR. TIMOTHY HARRIS T.O.R.
chaplainscorner
Sisters and Brothers, Hibernians one and all, God Bless You and Keep You!
As I have been preparing for my new assignment in Austria, I had the privilege of representing our National Board alongside Brother Daniel O'Connell at the Ohio State Convention. I wish to report to all of you that the Ohio LAOH and AOH are continuing the wonderful Celtic tradition of Friendship, Unity and Christian Charity. The convention was a great opportunity for fellowship and faith. The Hibernians of Ohio recommitted themselves to the order and a grand time was had by all.
As I am concluding my service to all of you as a National Deputy Chaplin, I want to welcome Monsignor Edward Weber to the National Board and wish him all the best as he begins the exciting journey of Chaplaincy on the national level. It has been a true honor to be of service over the past year to the board. As I shared with our worthy national president Brendan Moore, I will continue to keep all Hibernians in my thoughts and prayers. I ask that you all remember me in your prayers too…..
_______________________________
http://www.aoh.com/category/chaplains-corner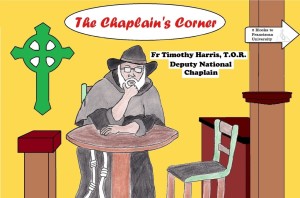 From: Timothy Harris <uffenian@hotmail.com>
Subject: Blessed Easter
Date: April 5, 2015 at 5:46:25 AM EDT
To: "national.board@aoh.com" <national.board@aoh.com>, AOH Brothers <brothers@aohloudoun.com>
This is the day the Lord has made, let us rejoice and be glad in it.
Christ is risen from the dead, Alleluia!
May Christ raise each and everyone of you to New Life this Blessed Easter Season.
Be assured of my prayers for all of you and your loved ones.
Peace and All Good!
Fr Timothy…
Rev Timothy J Harris, T.O.R.
National Deputy Chaplain
A.O.H. of America
____________________
My Brothers and Sisters in Christ.
I greet you on this joyous day, the Feast Day of our Beloved Patron Saint, Patrick of Ireland. I pray that
you are being blessed this day through a good and jubilant celebration. I am preparing to celebrate Mass
at noon her at Franciscan University for the intention of the many members of my family, living and
deceased, who share the name of Patrick. It is one of the most precious gifts that I received from my
ordination: the ability to offer the most awesome celebration of Christ's Paschal Mystery for those
whom I love.
I share this with you because I wanted you all to know, Hibernians near and far, that this past Sunday
Mass, March 15th, the Forth Sunday of Lent, I offered for YOU. I am sure that it is true for all of my fellow
chaplains of the AOH, but I love to exercise my priesthood for you, the men and women who are part of
our Hibernian Clan.
I wear a number of hats in my ministry serving God. (Both literally and figuratively.) But for the last
decade, one of the roles I have assumed that has brought me great joy, has been as an AOH chaplain.
And although I have moved several times, and will continue to move and relocate, I never forget to bring
those I have promised to pray for with me. And as a national chaplain, that now extends to all
Hibernians.
This prayer connection is one of the most important purposes we find for the lives of the Saints. The
Saints are a part of our Church for us – the people of God. They are witnesses of faith for their own time
and for ours. They are special intercessors for us. They intercede for us, pray for us, before the very
throne of God. And they inspire us to intercede for one another on our common journey to Salvation.
And so as we remember today Saint Patrick: Hopefully we have been to Mass or will make an effort to
go before the day is out. Hopefully we have offered prayers today for our loved ones, who may be in
heaven, in purgatory waiting with great anticipation for the full Beatific Vision, or still with us here on
our earthly journey. Hopefully we lift each other up in prayer and love as brothers and sisters in Christ.
Let us always pray for our country America, for conversion and faith to take place in the hearts of all.
And through the intercession of Patrick, Brigid, and Fenian, let us continue to pray for Ireland. By the
Grace of God, may the isle of Erin, be renewed in its Christian Faith and be unified in peace, A Nation
Once Again.
God Bless You and Keep You.
Fr Timothy, T.O.R.