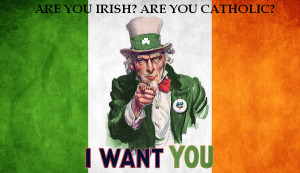 If you are a male practicing the Catholic Faith and of Irish Heritage you are eligible to join.
Please download and complete the attached application an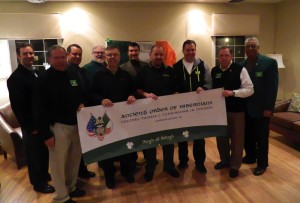 d e-mail it to RFay@register-iri.com
We will notify you promptly of the date of the

next initiation ceremony, known as the Shamrock Ceremony.
Most AOH events are open to the member, spouse, family, and friends.
For our current members, we need you to recruit new members.
A note from our President:
Brothers,
My thanks to Brother Bob Connors for finding our new "recruiting" poster below on the AOH Toledo website.
I don't think our Brothers in Ohio will mind if we borrow it.
Our AOH recruiting efforts have slowed over the winter months along with our desire to go out in the cold,
but now that March, Irish History Month, and the feast day of our Patron Saint Patrick approaches we need to regain the momentum for our
NEW MEMBER A MONTH DRIVE!
I am asking each of our members to pass along the attached application and info flyer to that friend, neighbor, relative,
or bartender that you know would enjoy the friendship, fraternity, and fun of membership in our Col. Thomas J. Cunningham AOH Division.
Membership is the life's blood of our organization and new members are needed to help promote our ideals, charities, Irish heritage and fraternity.
Go ahead—ask the new guy in church: ARE YOU IRISH? ARE YOU A HIBERNIAN? WHY NOT ?!!! WHAT ARE YOU WAITING FOR?!?
Thanks & God Bless,
Bob
Capt. Robert A. Fay, President
Col. Thomas J. Cunningham Division
Ancient Order of Hibernians
Ph: 1 (703) 568-9672
E-mail: rfay@register-iri.com
"People who say it cannot be done should not interrupt those who are doing it."
…George Bernard Shaw