From: "J. Cole Slattery" <slatteryjc@aol.com>
Date: November 17, 2017 at 8:04:33 AM EST
To: aohloudounbrothers@aohloudoun.org
Cc: cole.slattery@gmail.com
Subject: Passing of President McCarthy's SisterBrothers,
It is with great sadness I convey to you the passing of President Jay McCarthy's sister Maureen on Tuesday. Please pray for the repose of the soul of Maureen and for the entire McCarthy family.
Eternal rest grant unto her Oh Lord and may Your perpetual light me made to shine upon her.
With deepest sympathy.
Cole
Cole Slattery
Vice President
COL Thomas J. Cunningham Division
Ashburn, Virginia
______________________________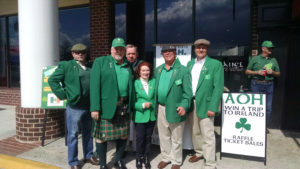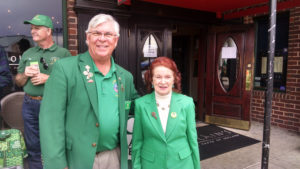 Good Sunday to you Brothers! Actually it is a bit of a sad day though I know that she is now with her husband Jack and with the LORD today!
A long time friend and supporter of OUR Cunningham Division, Rose "Betty" Smith of St. Joseph Parish passed away abruptly this past Tuesday from pneumonia. This lovely lady was 88. As you can see from the pic's from this past St. Pat's Day at O'Faolain's, Betty could easily have been a Poster Lady for the Irish/AOH! She will be missed by all who knew her………….
Betty's Wake will be this Tuesday at Adams-Green in Herndon from 12-3 pm with a Funeral on Wednesday at 11 at St. Joseph church. Our Division has sent flowers on behalf of Betty's Irish Friends! If you can stop by and pay your respects to the Family, I know it would be appreciated at this time.
Brothers Bob Anderson and Connors, please post these pictures on your respective Division publications. Thank you!
"May the soul of the faithful departed through the mercy of GOD, rest in Peace, Amen.
Slainte'
Jay McCarthy
President, Col. Thomas J. Cunningham Jr. Division
AOH VA State Secretary
703 477-5934
The Virginia State Board is sorry to report
the passing of Past National President of the
Ladies Ancient Order of Hibernians
Eleanore Grimley on 20 April.
Viewing and Funeral
Grimley, Eleonore I.
On Monday, April 20, 2015 of Alexandria, VA. Beloved wife of Arthur T. Grimley; sister of the late George Price; cousin of Diane Legelier of Montreal, Canada. Relatives and friends may call at Jefferson Funeral Chapel, 5755 Castlewellan Drive, Alexandria, VA, Tuesday, 5-9 pm. Mass of Christian burial at St. Lawrence the Martyr Catholic Church, 6222 Franconia Rd., Alexandria, VA on Wednesday, April 29 at 10:30 am. Interment at a later date. Memorial contributions may be made to St. Lawrence the Martyr Catholic Church.