REPORT OF THE COMMITTEE ON THE SICK:  Eight names were added to the list:

Sue Maserole
Bill Ryan – deceased
Jerry Frissord
Frank Abrams
Doug Anderson
Bob Connors
Frank O'Gera
Brian Korten
Mike Foley
Jim Ryan
Dennis Corrigan
Siobhan Cahillane
Micheala Cahillane
Catherine Willis
Linda Devins
Tom Bond – deceased
Don Hays
Chris and Maryann Pelzor
Rick Parker
Nancy Szasz
Nancy Green
Jim Hall
Bill Delaney
Denise Kessler
Linda Sweigard
Matt Meserole
Scott Leanardy
Gerard Ryan
Max LNU
Devlin Berlo
On Apr 5, 2016, at 8:43 AM, vigor2@aol.com wrote:
Good morning Brothers. Asking for prayers for Brother Jim Hall who may have had a stroke this morning following his Cancer Surgery a couple of months ago.
Thank you.
Jay
From: Jim Ryan [mailto:jimryanallbusiness@gmail.com]
Sent: Monday, November 02, 2015 6:02 PM
To: Fay, Robert
Subject: Fwd: Prayers
Mr. President,
I share with you the following email that I just sent to my brother Knights.
We ask for prayers for their souls.
In our motto,
Jim
*********
A young woman named Desiree, who works with my wife, did not come to work today. Apparently she has not been heard from since Thursday and my wife has been fielding progressively frantic calls from her family and friends for most of the day.
Sadly, my wife just got a call from a friend who went to her house with the police. It seems two bodies were found. We assume the worst.
I ask for prayers for Desiree, her family and friends.
Thank you.
Vivat Jesu,
Jim
—
Jim Ryan
Please remember the following in your prayers:
a. Noah Wilson
b. Kay Melia
c. Catherine Gressel
d. Francis Thornton
e. Noreen McCarthy
f. Declan Shea Haas
g. Gertrude Hippchen
h. Edward Kennedy
i. Robert Burger
j. Fr. Mike Morris
k. Michael Goodwin
l. Maria Vabarro
m. Georgina Roach
n. Goodwin and Weber families
o. Jimmy McCluster
p. Bill McCarthy
q. Bill Walsh
r. Bill and Shiobhan Cahillane
s. Maureen McCarthy
t. Michael Matthews
u. Samantha Wanagel
v. Marvin Carmack
w. Esther and Ed Connors
x. CAPT Pete Sarandinacki
y. Brother Dave Wilson
z. Joe Kober + (ROS)
aa. Betty Kober
bb. Bill Delaney
cc. Max Hall
dd. Jennifer Schadowsky
ee. Frank Kessell
ff. Megan Anderson and baby
________________
On Mar 18, 2015, at 10:33 AM, Fay, Robert <RFay@Register-IRI.com> wrote:
Brothers,
A heartfelt "Thank You" for all your prayers and best wishes for my Grand-Niece Declyn Shea who was born 4 months prematurely,
almost a year ago, arriving at only 1 lb 14 ozs.
Declyn just ce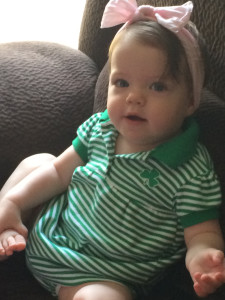 lebrated her first St. Patrick's Day (Irish Princess photo attached) and will be ONE year old on March 30th!
She is healthy in all respects and has no long lasting issues from her premature arrival.
We are so often asked to pray for our Brothers and their loved ones, but it is not always easy to see the results of our efforts.
Declyn is proof that God hears our Prayers!
Bail ó Dhia ort (God Bless you all),
Bob
Capt. Robert A. Fay, President
Col. Thomas J. Cunningham Division
Ancient Order of Hibernians
Ph: 1 (703) 568-9672
E-mail: rfay@register-iri.com
"People who say it cannot be done should not interrupt those who are doing it."
…George Bernard Shaw