VA Martinsburg Director, Tim Cooke, speaking at 28 Jan 2017 Sweat for Vets.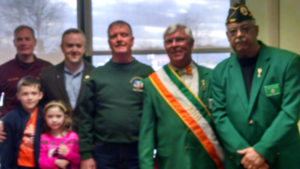 AOH Loudoun once again participated in distributing sweats to the Vets at VA Martinsburg Medical Center on 28 January 2017.  The event had been delayed till 28 January due to a flu outbreak, and need not to expose vets to unnecessary illness.
Event: Sweats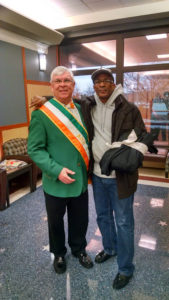 for Vets distribution, Saturday, 7 Jan 2017, 10:00 AM
Good evening Brothers.  The AOH will participate with this Sweats for Vets Program in Martinsburg once again in cooperation with the Knights of Columbus.  I as President of the Cunningham Division will be participating and presenting a check to the VA Medical Center.  Further, our Division has collected about 25 sweat outfits which will be distributed as part of the 700+ sweat outfits to be made available to our Vets that day.  You are encouraged to come and support our Vets.  The agenda is attached…….I ask you to RSVP me (e-mail) should you plan to participate.  It will be an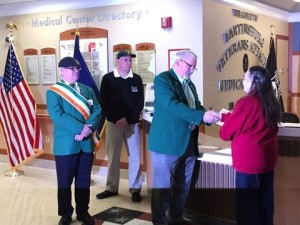 experience you will never forget! Also, if you can assist with the wrapping of the Sweats this Saturday, you service will be most appreciated.
Don't forget to wear your green and your name badge.  If you have a service hat or shirt, wear it proudly!!!
Slainte'
Jay McCarthy
Col. Thomas J. Cunningham Jr. Division President
AOH VA State Secretary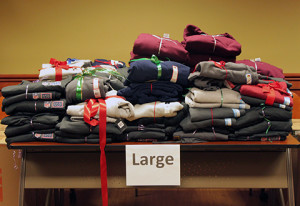 Date, Sat, 7 January 2017
Time: 10:30 a.m.
Location: Martinsburg Medical Center
510 Butler Ave.
Martinsburg, VA
Directions to the VA Medical Center:
Take Rte. 7 West to Rte. 9 West (follow signs to Charles Town, WV)
Go about 30 miles following signs to Route 9\Route 340 towards Martinsburg
Follow Route 9 West towards Martinsburg to the Short Road Exit
At the end of the exit ramp turn right and proceed thru the stop sign to the traffic light (Route 9)
Turn left onto Route 9
Go 1 mile to the VA Medical Center on the right, just past the 7-11 convenience store
Proceed to the main parking lot and enter the hospital thru the lobby
Frank Nauer, PFN
Veterans Affairs Voluntary Service (VAVS) Representative
John Paul II Assembly
The Knights of Columbus
We are proud to support the annual call for "Sweats for Vets" at the VA Medical Center, Martinsburg, VA.  Working with other local charitable organizations like the Knights of Columbus, we donated and delivered 750 new sweat suits for vets in 2015.
We thank all veterans for their Service!
President Robert Fay reports that Saturday, January 10th, 2015 was a cold day in Martinsburg, West Virginia, but it was a great day for some Hibernians brothers from the Cunningham Division and the Virginia AOH State Board to demonstrate our moto in action. Over 750 sweat suits were donated to male and female Veteran inpatients at the Martinsburg VAMC by the Cunningham Division of the AOH, the Knights of Columbus of Loudoun County, and local chapters of the American Legion and Veterans of Foreign Wars from Loudoun County. In addition to the sweat suits; Division President Bob Fay presented a monetary donation to the VA Hospital and Division Vice President/ AOH State Treasurer Jay McCarty presented a donation from the AOH Virginia State Board.
Thirteen brothers of the Cunningham Division attended the Sweats for Vets event and distribution, providing an outstanding example of living our moto through Christian Charity. Thank you to all the brothers who helped out at the VA and all the others who donated sweats and money for the event.
See the news at:
http://www.martinsburg.va.gov/features/Martinsburg_VAMC_Holds_Annual_Sweats_for_Vets_Even.asp
http://www.martinsburg.va.gov/features/Sweats_for_Vets.asp
Our Sweats for Vets good news was also shared in the recent Hiberian National Digest:
The national hibernian Digest Jan-Feb 2015 pg3