The winner of the 2017 Trip to Ireland Raffle for Charity is:
Natassia Grover from St. Theresa Parish.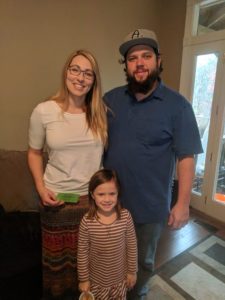 +++++++++++++++++++++++++++++++++++++++++++++++++++++++=
St. Joseph Church – this weekend after all of the Masses – 10/7 – 10/8.  I plan to be there for all Masses at this time – I need your help!!!!!
The next 2 weekends at Our Lady of Hope Church – after all of the Masses – 10/14-10/15  & 10/21-10/22
The 1/2 way to St. Patrick Party to follow on Thursday, 10/26 starting about 6:30 @ O'Faolain;s
Please help in some way – after a Mass or 2; buying tickets yourself; selling tickets to friends and acquaintance; participating in the Party on 10/26 – but in any event do something to support YOUR Division and OUR raffle/tuition assistance program……..!!!!!!!!!
__________________________________
From the AOH President, Jay McCarthy:
"I had the privilege of meeting Guy and Judy Sapienza this morning and to present to them our official letter that they are the 2016 winners of our recent raffle. They are active members of St. Joseph Parish and have never been to Ireland – they definitely plan on going in 2017! Guy is retired military/intelligence community – Thank you for your service Guy – and is the youngest of 9 children, mother's maiden name is Kennedy! He is from upstate New York.
As for the raffle, unofficially we sold slightly less than the 3,000 tickets available, amounting to $18,300, which I believe is our all time record to date! Given some of the circumstances we encountered this year regarding sales efforts (heat, lower 3rd party sales, and lightly attended events in Triangle and at St. Francis Church), we did exceptionally well! Having the ability to accept charges/direct payments to our Hibernian Account was definitely a plus this year……….
Finally, I wish to thank all of you who had a hand in making this raffle a success this year. Proceeds are used to provide financial assistance to primary grade parochial school children, veterans, seminarians, Priests to name a few charitable initiatives. We will be doing it again next year…………
Please plan to join us next week for our monthly meeting – 11/9 @ 7:30 pm @ Belmont Greene – to properly celebrate our success!
Slainte'
Jay McCarthy
Colonel Thomas J. Cunningham Jr. Division President
AOH VA State Secretary"